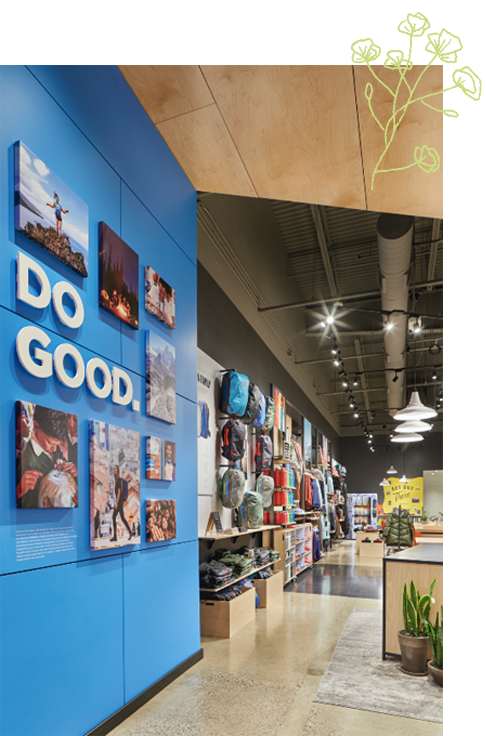 work work work work work work
Arty projects, creative collabs, and recent tings that I'm delighted to show you.
I doodle wall structures, dream in color stories, and fan-girl hard over a well curated entry way. Call it a joie de vivre.
From bars to boutiques, my approach focuses on transforming and evolving physical spaces into unique snapshots that foster a brand's story, drive business in meaningful ways, and leave people with an indelible thirst to keep coming back.
main tings
concept development, visual roll-outs, floor planning, store displays, fixturing, styling, buying + curation, product flow, analytics + strategy, team management, back-of-house operations
Overview
With support from the brand's Directors of Retail and Store Management, I oversaw the visual roll-out of Cotopaxi's second location — from strategy and floor planning to styling and merchandising.
Despite there being a very short window between construction wrap-up and the store's soft opening, I was able to fixture and execute a space that uniquely captured Cotopaxi's story.
COmpany Deets
Cotopaxi is a certified B Corp + outdoor retail brand known for apparel in bright colors and one-of-a-kind backpacks.
my role
floor planning, visual roll-out, fixturing, store opening, styling, product flow, strategy, team management
team PLAYERS
Ethan White, Travis Griswold, Cotopaxi's creative team, CallisonRTKL Architects
+
Think of me as the "cool" aunt. I get you. I wear eclectic sweaters and I'm not afraid to tell you that you'll regret tweezing your brows that way.
Together, we'll cultivate your vision and build something wonderful: a brand, a social presence, and/or a brick and mortar that encapsulates enticing design, thoughtful identity, smart strategy, engaging content — and maybe also a cool aunt.
main tings
strategy + research, brand story, identity + design, PR, digital + influencer marketing, content development, brick and mortar planning
overview
I spent two years working on brand growth for Coffeewerk + Press and its sister company Artwerk Press in Galway City.
Our team's approach was to tell a meaningful story about design, craftsmanship, and transparency in a way that felt organic and resonated with an international customer base.
Under the art direction of owner Dan Ulrichs, I created copy and photo assets for social channels and digital marketing; and assisted with buying and curation, visual merchandising and window displays, and social media growth.
In addition, I managed the retail's back-of-house operations and product flow.
COmpany Deets
Coffewerk + Press sits in a 450-year-old building on a lovely cobbled street in the west of Ireland. The award-winning lifestyle store, gallery, and cafe features international third wave coffee, handcrafted homewares, and a collection of fine art prints from Artwerk Press.
my role
strategy + research, social media, brand story, content development, back-of-house ops, product flow, displays + visual merchandisng
team PLAYERS
Dan Ulrichs, Jaesin Yu, Zania Koppe, Paige Godfrey, Steven Chan, Marlene Dahl, Ben Gabriel
+
Give me a cup of coffee and I'll write something punchy and professional (yes, it's a ting) and style you like one of those french girls — all in a day's work.
I specialize in copy, photo, editing, and art direction for digital marketing, branding, PR, and/or your grandma's annual holiday card.
main tings
copywriting, editing, photo, art direction + styling, digital marketing, brand identity + collateral
Overview
In collaboration with owner and top-man Jack Considine, I design event posters, food and beverage menus, and other assets for print and social.
COmpany Deets
Bierhaus and its sister bar The Universal are staples in Galway's Westend — an arty and buzzing neighborhood with a burgeoning food scene, indigenous + cult music, and a tasty selection of bevvies (that's beverages, if you're wondering).
my role
graphic design, editing, art direction, digital marketing, brand collateral
team PLAYERS
Jack Considine
+